DOES YOUR COACH NEED SERVICE?
ALLEGIANT RV IS HERE TO HELP!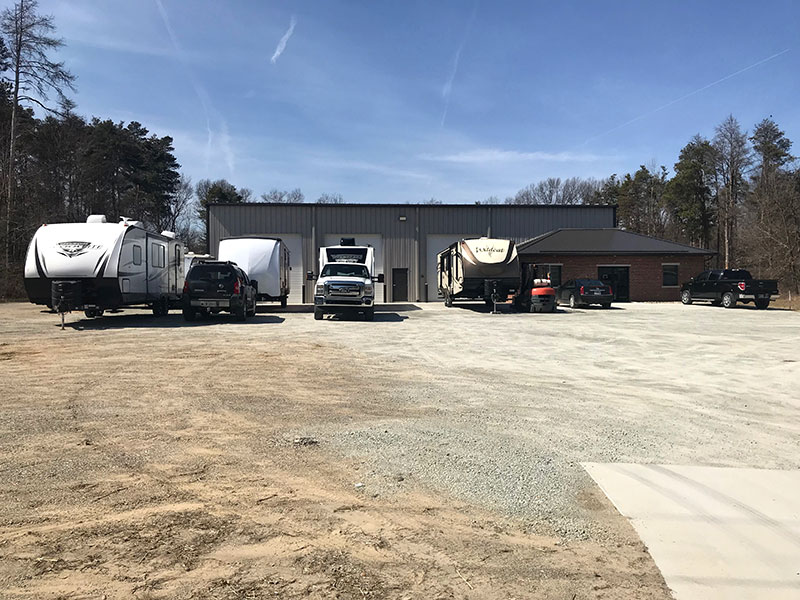 The Allegiant Difference!
We value integrity, strive for excellence and we're doing our best to make sure you get the help you deserve with your RV. From the owners to our team members, our entire company is devoted to ensuring that you receive great service that's right on time!
Save Big While Getting the Same Quality Service
Located in the RV capital of the world, Allegiant RV has quick access to the parts you need. We're neighbors with major RV manufacturers and are in driving distance to whatever you need!
Where Quality Isn't Just a Gimmick
When Allegiant says the word "quality", we mean it. On your next family RV road trip, the focus should be on fun, not worrying about the reliability of your vehicle.
Providing quality service isn't just a matter of good customer service, it is what we live by.
What RV Vehicles Do We Service?
As an independent RV repair facility, we aren't limited to only working with certain manufacturers. We can work with all manufacturers to provide the services you need!
Call us at 574-825-3303 or email us to schedule an appointment or for more information.
Where Are We?
We're located right in Middlebury, Indiana. You can find us on Indiana 13, south of Interstates 80 and 90 at exit 107!

If you need repairs or custom work done on your RV or truck sleeper, we're right there to help! We work tirelessly to provide our customers with excellent, timely service!
We work on the following products:
Motor homes
Fifth Wheels
Campers
Travel Trailers
Cargo Trailers
Custom Semi Truck Sleepers
Toy Haulers
Horse Trailers
Pet Trailers
Race Trailers
Toterhomes
Allegiant RV: Your Pathway to The Great Outdoors! 

​We are an independent repair facility focusing on your needs with professionals that are committed to redefining excellence in all that we do while maintaining and servicing your coach with integrity.
We're experts at what we do. Whether you need custom work or repairs, Allegiant RV has got your back! Our attitude towards providing excellent service is right in our name – Allegiant. Faithful. Loyal. True.

Allegiant RV Was Founded as a Problem Solver
Founded in 2016, Allegiant was the brain-child of owner, Tony Chupp. Having worked in OEM manufacturing for over 35 years, he noticed a big problem – customers were often waiting for weeks and weeks at a time to get their RV repaired. Their RVs would be out of commission for months and customers couldn't use their vehicles.

The owners of Allegiant continually strive to make sure our RV customers don't end up in that position. We are always available to serve the needs of our customers!
Whenever you need repairs, you don't have to go through weeks of long waiting or having expensive shipping costs tacked on to your bill! We'll get your parts for less!
Find Your Perfect Fit
At Allegiant, we have all the RV repair and customization services you need to travel safely and personalize both your RV and your traveling experience. As your full-service RV experts, we have experience working on a wide variety of RV service needs and customization work.

The following represent just a few of our available services:
Exterior RV Paint and RV Bodywork
Collision Repair
RV Washer and Dryer Installation
Water Damage Repair
Rodent Proofing
RV Potable Water System Repair
Custom Cabinets
Brake Adjustment
Heated Floor Installation for RV's
Your time on the road should be worry-free.

Come visit us and experience the Allegiant difference.