About Allegiant RV Service & Sales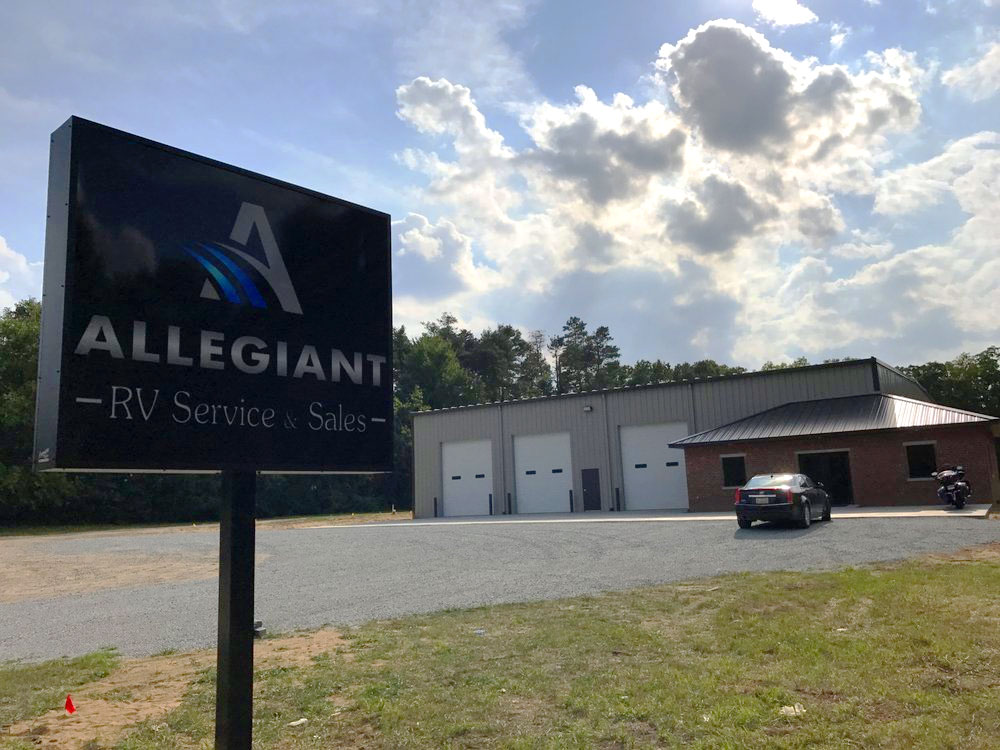 About Allegiant RV
Tony Chupp founded Allegiant RV in 2016 after working 35 years on the OEM manufacturing side. When Tony realized that customers were not receiving quality service in a timely manner, he found a solution to help customers get their RV's repaired in a timely manner with Allegiant RV.

Allegiant RV employees are always available and 100% devoted to providing quality service in a timely manner. Located in the mecca of RV manufacturing community, Allegiant RV can help their customers save money on shipping for parts that are needed for repairs and have quick access to the parts you need.
It's The Allegiant Difference!
We're experts at what we do. Whether you need custom work or repairs, Allegiant RV has got your back! Our attitude towards providing excellent service is right in our name – Allegiant. Faithful. Loyal. True.

We value integrity, strive for excellence and we're doing our best to make sure you get the help you deserve with your RV. From the owners to our team members, our entire company is devoted to ensuring that you receive great service that's right on time!

Contact Us
Come visit us and experience the Allegiant difference. Visit the Allegiant RV Service Center at 52083 IN-13, Middlebury, IN, 46540 Middlebury, IN 46540 today for an in-person consultation or give us a call to speak to the customer support staff.
Please contact us here or by phone at 574-825-3303 to secure a service appointment.
Excellence Redefined.
We are an independent RV Service Center conveniently located at exit 107 of the 80/90 Indiana Toll Road. With over 95 years combined Service and Manufacturing experience, our service offerings range from simple tasks such as changing light bulbs to the complex task of complete replacements of walls, floor and roof assemblies damaged by accident or water intrusion. Not only do we service RV products but we also service and customize semi truck sleepers, toterhomes, cargo trailers, race trailers and horse trailers.
Location
Allegiant RV Service & Sales is a group of professionals that are committed to redefining excellence in all we do. Located at 52083 IN-13, Middlebury, IN, 46540, Allegiant RV Service is located on Indiana 13 just South of the I-80/90 Indiana toll road, exit 107 in the heart of the RV community.
Service
Allegiant RV Service is an independent RV repair facility where we work with manufacturers to help you with the maintenance and repairs you may need. Allegiant RV Service focuses on quality customer service that is firmly devoted and loyal to our customers. Allegiant RV services a variety of products including but not limited to the following: Motor Homes, Fifth Wheels, Campers, Travel Trailers, Cargo Trailers, Custom Semi Truck Sleepers, Toy Haulers, Horse Trailers, and Pet Trailers.

Some of the services Allegiant RV provides, but is not limited to, include:
RV customization – any interior refurbishment, custom cabinets, etc.
RV roof replacement and/or re-coat
Floor replacement (carpet, tile, laminent, etc)
Sidewall replacement for RV
Installation of or service of RV solar panels
RV Slideout adjustments
RV Power jack system repairs
Security system installation and repairs on RV
Install and repair RV handicap accessible options and lifts
Exterior paint and bodywork on RV
RV Winterizing and de-winterizing
Annual RV inspections and maintenance
Pre-purchase inspections
If you need repairs or custom work to be done on your RV, we are right there to help! We work tirelessly to provide our customers with excellent, timely service!